... contrer le cancer des testicules.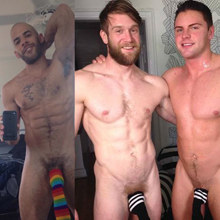 The last campaign against testicular cancer is kinda original (and cheeky). Internet users are invited to post naked selfies with only a sock to hide their genitals.
It didn't take long for the porn sphere to take hold of this phenomenon. The first to post their selfies were Austin Wilde,
Colby Keller
and Jake Wilder.
-
You can participate in this campaign by posting your own selfies on the website or the facebook page of Cock in a Sock.
Web :
getyoursockout.co.uk/index.html
Facebook :
https://www.facebook.com/pages/Cock-in-a-sock/223272647868033?fref=ts